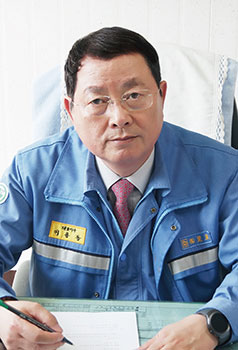 The most preferred business of yours
First of all, we deeply appreciate your endless help and encouragement.
Daedong Co.,Ltd. Which started as Daedong Industry in 1982, has been making an utmost effort in the steel industry for the last 30 years. With our accumulated technology, know-hows and continuous R&D, we have achieved localization in many parts, and enhanced international competitiveness with the economic effect of the import substitution.
In addition, we acquired ISO9001 in December 1995 and passed the renewal evaluation to guarantee high quality, customer satisfaction and value creation. Also, acquiring ISO14001 in December 2007 and KOSHA18001 in October 2011, we have become a leading company in green and safety management.
We will do our best to jump up to become the 21C's new manufacturing leader, and to expand our facilities and creative, active human resource development.
All staff in Daedong Co.,Ltd. will devote our time and effort to meet customers' various needs under the aim accepting all demands from our customers and achieving high quality. Please, give us your continuous advice and support.
Thank you.